Why Choose Permeable Paving?
New Dawn Permeable Paving install one of Australia's leading resin-bound permeable paving solutions. Specially selected, kiln-dried rocks are bound with a highly durable resin to create a long-lasting surface. When laid correctly, this porous paving allows water to flow rapidly through. Laid over a free-draining, fully reinforced permeable concrete base, the surface is a high strength, fully permeable option for driveways, patios and any other paved area. By allowing water to drain freely, the surface also prevents puddle formation making paved areas safer, and reduces the amount of surface water directed to stormwater drains.
We install permeable concrete driveways for new units, townhouses and subdivisions, meeting all council requirements for permeability. If your plan specifies permeable concrete, porous paving or permeable pavers, this is what we do! Our resin driveway paving is installed on fully permeable concrete with galvanised reinforcing steel, giving maximum strength, minimal movement and total peace of mind. Our installations also come with an on-going warranty. We also install permeable paving for all commercial and heavy duty applications.
Permeable Concrete – The basis for great permeable paving
We only install our permeable paving on a permeable concrete base. We use a custom concrete mix that results in paving as strong as normal concrete, but remains 100% permeable. The inclusion of galvanised steel reinforcing means that no compromise on strength or durability is needed to achieve permeability
Then, the permeable paving is laid over the permeable concrete, providing a beautiful and hardwearing surface course to the paving installation. Pebble Pave's unique formula uses a UV resistant resin designed for Australia's tough conditions, ensuring the paving installation is durable enough for decades of service.
GET IN TOUCH TODAY
For more information on our specifications for installing permeable paving, visit our specifications page here, or head to our Knowledge Base!
A fully permeable driveway with red brick borders
Pebble Pave Colours & Finishes
---
Our permeable paving is available in a wide variety of colours and finishes. We are constantly sourcing new Australian aggregates in a variety of colours. Our pebbles and crushed rocks are typically available in sizes between 3 and 8 mm. Patterns and coloured blends are also possible, giving you the opportunity to create a truly unique paved area.
Autumn
Aztec
Glacier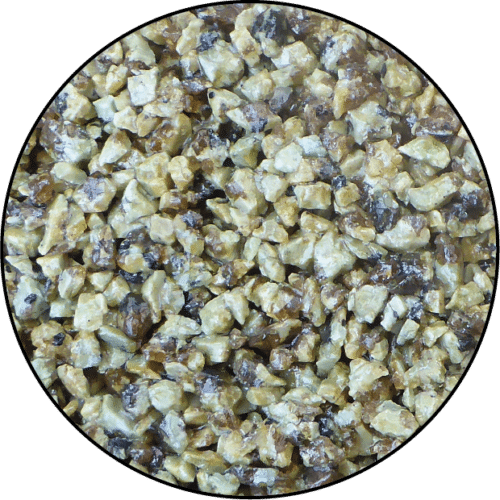 Green Granite
Green Marble
K-Blue
Midnight Gold
Midnight
Rosewood
Sahara
Seashell
Silver Ash
Sunset Gold
Tuscan Red