Here at New Dawn, we always get interesting and unique problems to solve with permeable paving.
The Problem & Scope
We recently received a request to provide permeable paving around a bottle tree in the Children's Garden in the Royal Botanical Gardens. One of the trees had recently died, so had been replaced. This meant ripping up the permeable paving around the tree and replacing it.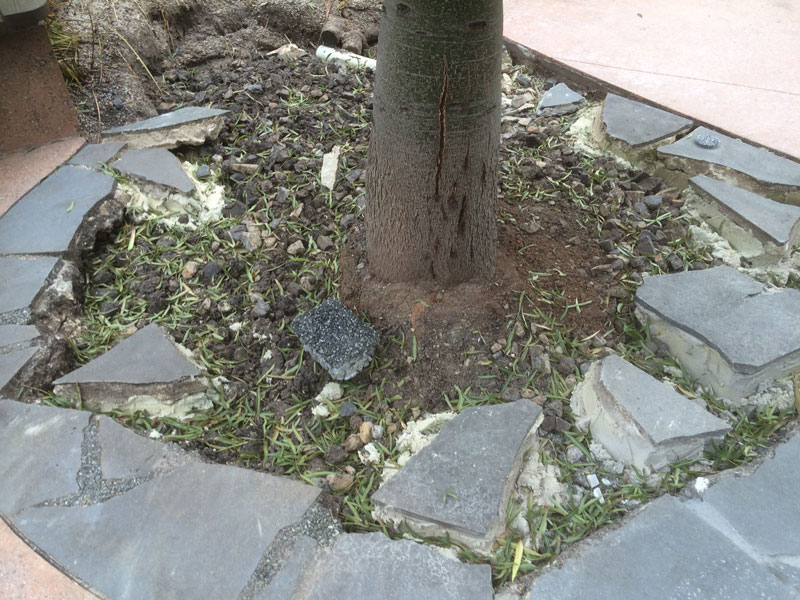 Bottle tree replaced ready for paving
Permeable paving around street trees is now standard practice in Victoria (Melbourne City Council even have a whole website on waterwise construction). But the challenge with this project was providing a highly porous but very stable base for the paving area around the tree.
Our Permeable Paving Solution
You'll notice on our website that we always recommend a permeable or porous concrete as the base for permeable paving, rather than a crushed rock. Now these mixes are not "off the shelf" concrete products – they have been designed by us and the guys at Pebble Pave to ensure maximum strength with no compromise in permeability. For the botanical gardens, we used our extremely open, maxi-permeable concrete mix to ensure maximum water flow. We were also able to reuse the existing bluestone pavers by bedding them into the concrete to recreate the original border.
Porous concrete installed to provide a base for the paving
We were able to install the base up to the rootball of the new tree. Over the interface between the concrete and the rootball, we added some reinforcing to the paving, as this is the area most likely to experience movement.
Reinforcing for the paving in the rootzone of the bottle tree
With the reinforcing in place, we could then install the paving. We were able to exactly match the colour of the existing paving, even though it was installed by a different contractor.
The finished permeable paving around the tree
The Outcome
Overall, the finish was exactly how the Garden's staff and architect wanted, and will ensure 100% of the water falling on the paving will drain through and nurture the roots of the trees for years to come!